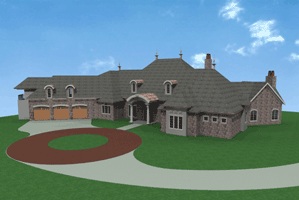 "They eliminate the vagueness that plagues our industry and is ultimately paid for by an unsuspecting customer."

Why Accurate Drawings Are Important
The drawings and specifications for your New Home will form an integral part of the construction contract between you and your Builder and will determine the scope of your project. In order to minimize discrepancies during construction, it is critical to have an accurate and detailed set of drawings and specifications.
Fact: Inaccurate drawings and ambiguous specifications often lead to misunderstandings between owners and builders, often resulting in increases to the project cost and unsatisfactory results. If you thought you were getting "A" but the contractor had "B" in mind, and estimated the project based upon "his" interpretation of the scope of work and important details, in order to get what you want, it will require a change order and often cost you more money.
An accurate and detailed set of drawings and specifications guarantees that you will get the home you are envisioning. It will also allow you to gather accurate pricing information before construction, allowing you to make any necessary changes to maintain your anticipated budget.
With this in mind, we developed the Drawing Checklist as a way to determine the types of Drawings and level of detail based on your needs and experience. All of our Drawings are done to appropriate scale, showing accurate materials and are coordinated to each other – our floor plans match our elevations, sections and other drawings. 3D imagery allows you to see the "finished" project, so even the most miniscule details are not overlooked.
Learn More...
You can learn more about what this may cost, by clicking here: How Much Will This Cost >>>