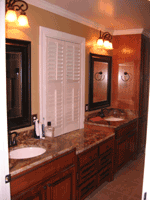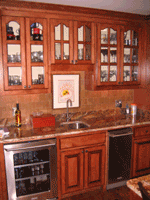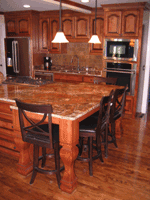 "I highly recommend Pete to any client as a professional who takes the time to figure out the details."

Who We Work With
Who We Work With
von Ahn Design, LLC is a company best suited to individuals and families who are interested in a quality design managed by a collaborative and receptive team of professionals. Our philosophy is to design it right the first time, which our clients can appreciate for many, many years after construction.
Meeting Your Needs
We are best equipped to meet the needs of individuals and families who:
Want to build a new home
Need to add on to their existing home
Need to update their outdated or aging home
Want a home that meets the needs of their family now, while looking forward to the future
Desire assistance in space planning, site orientation, material selection, cabinetry design, paint colors, finishes, or builder selection
Appreciate professional design and service
Want to avoid the pitfalls and change orders that are typical during construction
Upon completion of construction, want their new home to match the original drawings and budget that was agreed upon
Care about the design and decisions that need to be made for their home
Appreciate our company values and culture
Are We a Good Fit?
In evaluating whether von Ahn Design, LLC is a good fit, you should also know:
We employ the best professionals in the industry, including South Carolina Architects, Georgia Architects, South Carolina Home Builders, Certified Green Professionals (CGP), Custom Home Design Experts and Computer Aided Design Specialists
Our Architects are insured and licensed with the South Carolina Board of Architectural Examiners and the Georgia Board of Architects and Interior Designers
Our Home Builders are insured and licensed with the South Carolina Residential Builders Commission
We have a very disciplined and thorough design and budgeting process
By asking the right questions and listening to your input, we can develop the design that meets your needs and budget
Our detailed Drawing Checklist ensures drawing accuracy, eliminating costly change orders during construction
We are active in many trade associations including American Institute of Architects (AIA), National Council of Architectural Registration Board (NCARB), National Association of Home Builders (NAHB), Home Builders Association of South Carolina (HBASC), Home Builders Association of Greater Columbia (HBAGC), HBA of Greater Columbia Remodelers (HBAGCR) and Green Building Council of Greater Columbia (GBCGC)
We provide client references and work samples (sketches, plans, 3D models, etc.)
Home Builders and Trade Contractors enjoy working with us and we enjoy working alongside other professional to make sure your dream is fully realized
We have been recognized as a leader in our industry by our peers and clients
Learn More...
You can learn more about what you can expect from us, by clicking here: What You Can Expect >>>