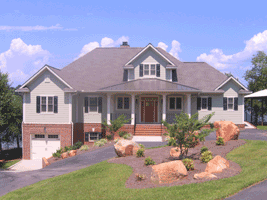 "I believe you will be satisfied with the attention to you, the customer, and to the small details in your design."

Is This For You?
We specialize in working with individuals and families who are designing a new home and are looking forward to the satisfaction of a home that was designed exclusively for them - on time and on budget. They are visionaries who are not only interested in a new home, but want to be able to enjoy the experience while avoiding the pitfalls that are typical in this industry.
Exceeding Your Expectations
At von Ahn Design, LLC, we strive to exceed your expectations for a well designed and constructed home. In order to achieve this, we are constantly looking for ways to improve and educate ourselves on the best materials and techniques available. When you are done working with von Ahn Design, LLC, you can expect to have:
A professional who is with you every step of the way
A design that meets your needs and lifestyle
A clear design and direction for the construction of your home
An aesthetically pleasing design
To be able to visualize your new home prior to construction
A design that fits your specific site conditions
A complete design that meets all code requirements and is buildable as drawn
An accurate design that fits your budget
Professional assistance with material and finish selections
An enjoyable experience during the construction of your new home
A set of accurate and clear Drawings and Specifications for construction
Many years of enjoying a home that was designed specifically for you
Setting The Standard
Our strive for excellence has allowed us to become the gold standard that other designers are compared to.
Learn More...
If you are interested in learning more, you can start by learning more about the kinds of clients we work with and the issues they face by clicking here: Who We Work With>>>