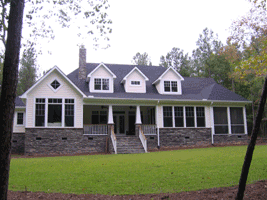 "Another advantage of von Ahn Design, LLC is that their contract options allow you to choose the detail of involvement you desire."

How We Work
Our Unique Approach
Unlike others in the industry, we do not take a one-size-fits-all approach to your project. We have found the typical model of design and construction for the residential market was very inefficient and often ineffective. When working with von Ahn Design, LLC:
We focus on you getting a high ROI (Return on Your Investment)!
We assist you throughout the design and construction process.
We focus on developing a design based on your unique situation.
We offer our unique "Homes For Life" process.
We listen to your thoughts, ideas and concerns.
We are able to join your team as a custom home design expert.
We provide 3D models to help you see your new home.
We have over 35 years experience as an Architect and Home Builder.
We work to maximize your budget both during construction and after.
We eliminate unnecessary change orders during construction.
We specialize in residential design.
We are dedicated to providing exemplary service in the housing industry.
We are continually learning about the latest methods and technologies.
The "Homes For Life" Process
Based on our experience we have developed a unique process that enables us to design a home that meets your needs, lifestyle and budget and achieve successful results. We call this our "Homes For Life" process.
We start with an initial meeting to customize our exclusive "Homes For Life" process for your project based on the project scope, your personal goals, previous construction experience and planned involvement.
Our "Homes For Life" process will save you money by providing you with the architectural services that you need or request and are applicable for your project, and eliminating those that are unnecessary.
The "Homes For Life" process allows us to generate the drawings and details that are needed for construction, along with any other information that is critical to build the home, while eliminating any unnecessary information.
Learn More...
You can learn more about the unique way we approach your project by clicking here: Our Unique Approach >>>