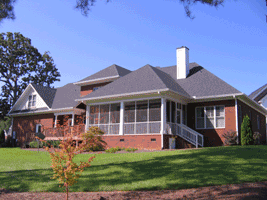 "I want to thank you for listening to us. You took my 'wish list' and incorporated every element into the plans!"

What You Can Expect
Here are the kinds of results our clients have achieved by working with us:
You can expect...
A professional who is with you every step of the way...
You will receive the professional guidance you need to take you through the design and construction process step by step, answering any questions and addressing any doubts or concerns you may have.
A design that meets your needs and lifestyle...
By asking the right questions and listening to you, your design will incorporate all of the spaces and features while meeting your needs and lifestyle.
A clear design and direction for the construction of your home...
You will receive a design that is clear and concise and best suits the needs and lifestyle of you and your family.
An aesthetically pleasing design...
Your design will combine elegance and style with comfortable simplicity and a respect for tradition, resulting in a functional yet aesthetically pleasing design.
The ability to visualize your new home prior to construction...
You will be able to see the exterior and interior of your new home in 3D, during the design phase, allowing you to make informed design decisions before construction begins, allowing you to feel confident in your decisions.
A design that fits your specific site conditions...
By analyzing your current site conditions, topography, views, and other natural features, your design will maximize the ideal buildable location of your site.
A complete design that meets all code requirements and is buildable as drawn...
Your design will not only meet your functional and monetary requirements, but will also be designed to meet all applicable building codes and will be structurally sound.
An accurate design that fits your budget...
You will receive a design that incorporates your finishes and product selections, allowing pricing information to be obtained early on, so revisions can be made to stay on budget if necessary.
Professional assistance with material and finish selections...
You can make your material, finish and fixture selections with the help of our design professionals, making sure everything is coordinated and functional.
A set of accurate and clear Drawings and Specifications for construction...
The accuracy and clarity of your drawings will allow your builder to provide accurate pricing information before construction, and can avoid costly change orders during construction.
An enjoyable experience during the construction of your new home...
You will be able to enjoy the construction experience, knowing that your decisions have been incorporated into your design and drawings, allowing your builder to provide you with an accurate contract.
A lifetime of enjoying a home that was designed specifically for you...
You will receive a lifetime of enjoyment of your new home, knowing the spaces and decisions were made exclusively for you, by you!
Learn More...
You can learn more about some common questions and concerns, by clicking here: Common Fears and Concerns >>>