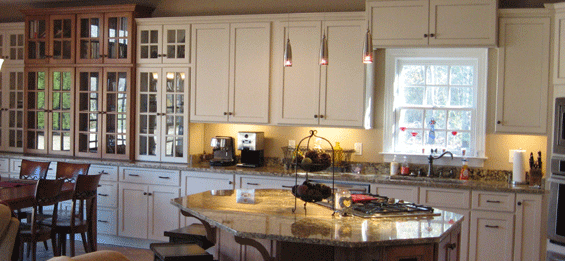 "They deliver to their customer a level of design thought and detail that is necessary for a customer."

Kitchens & Baths
Kitchens
You might think that the living room is the most "lived in" room in your house, but it's usually the kitchen! Whether you'd like to maximize your space, build an island or add a sleek, modern touch to your kitchen, our highly-experienced designers will help you along every step of the way. Kitchen remodeling is no small decision, so we're more than happy to answer any and all of your questions to help you feel comfortable with yours.
Bathrooms
Few spaces in the home are as personal and as practical as the bathroom. Besides the obvious necessity, bathrooms are a place to wind down with a soak after a long day and the same place we go to get going in the morning. We are able to create a space where you will begin and end your day with life's worries washed away. Whether you need to update your powder room or enlarge and enhance a master suite you can rest assured that von Ahn Design can help you create a personal space that is unique and within your budget.
Architectural Services
Just some of our architecture services include:
Analysis of your current space
Answering your questions
Addressing your concerns
Recommend solutions
Design Consultation
Design Development
Material & Finish Selections
Construction Drawings
Contractor Selection
Construction Observation
Get Started!
Schedule Your Initial Consultation
If you are ready to experience the same outstanding results as our other clients, please contact us today to get started developing your dream home. I invite you to take a few minutes to check out the rest of our website. You can start by learning more about the kinds of clients we work with and the issues they face by clicking here: Is This For You >>>
We know you will be very impressed with our professionalism and our ability to deliver results.
To schedule your initial consultation with von Ahn Design, LLC, call us at 803.518.2281, or contact us online today!
FREE Architect Comparison Worksheet
Sign Up!
Sign up to receive the FREE Architect Comparison Worksheet, containing the 20 questions you need to ask your architect or designer before you get started on your project, and get the latest tips and design trends delivered right to your inbox.
We hate spam as much as you! We will never rent, sell or otherwise share your information with anyone! You can take your name off our list any time you wish.
Residential Architecture & Design
Custom Home Plans
Remodeling, Renovation & Addition Design
Design Consultations
Kitchens & Baths
Find Us On Facebook!