"Careful attention to detail is what sets professionals apart!"

The Midlands' Custom Home Design Experts
Whether you are designing a new home or remodeling your existing home, you need an architect who can make the most of your space. The right architect can make your dream home come to life and your ideal home a reality!
von Ahn Design, LLC is a premier full service design and consulting firm providing architectural services for our discerning clients. We work with property owners who are looking for a custom design while avoiding the pitfalls that are typical during construction. By listening to the needs of each client and evaluating their lifestyle, we create a unique custom design and produce detailed drawings to streamline the construction process and generate outstanding results.
It's your home. It should reflect your needs and lifestyle. To help guide you through the design process, we combine our professional expertise with state of the art computer technology. But our greatest resource for generating outstanding results is simply listening to you.
von Ahn Design, LLC (VAD) is a custom residential architecture and design firm located at 153 Chapin Road in Chapin, South Carolina. We offer a variety of services, from initial home planning to complete design and construction management, tailoring a design and construction process to fit the unique needs of each client. As a registered architect we provide a professional service beyond that of a draftsman, and strive to bring architecture and good design to everyone.
Whether you require a consultation, new project design, renovation design or assistance during construction, we offer individualized services and innovative solutions to exceed the needs of the most quality conscious clients.
A Truly Customized Process…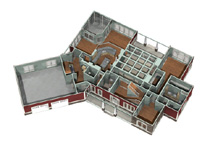 Everyone's needs are different, while some people may need a complete set of custom plans and details for their home, others may only require the bare essentials for construction. Because of this, we develop a custom process for each project based on the size and extent of your project, your personal goals and what construction experience you may have in order to develop the services and drawings that are appropriate for your project. With our guidance, you will be able to determine whether a "basic" set of plans is applicable or if you need a complete set of detailed drawings.
Get Started With An Initial Consultation…
If you want to experience the same outstanding results as our other clients, please call us at 803.518.2281, or contact us online for a free, no-obligation consultation. We know you will be very impressed with our professionalism and our ability to deliver outstanding results.
Residential Architecture and Design
Custom Home Plans
New Construction
Renovations & Additions
Kitchens & Baths
Design Consultations
Customized Services
design onSite
Green Design
Universal Design
3D Visualization
Illustration & Renderings
Construction Documents
Pre Design / Preliminary Plan Review
Construction Drawings
Cost Estimating
Finish Selections
Specifications
Contract Administration

Registered Architect
AIA Member
NCARB Certified
Professional Affiliations
NAHB / HBA
Remodelers Council
Green Building Council
Certified Green Professional


Residential Architecture & Design
Custom Home Plans
Remodeling, Renovation & Addition Design
Design Consultations
Kitchens & Baths